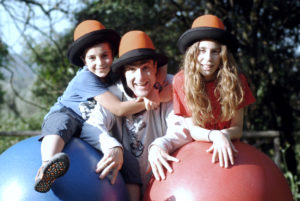 Hi! My name is Peluso, I was born in "Nou Barris", Barcelona in 1971. From a young age, the street was my school, it's where I learnt my first juggling and balance tricks. Submerged in an under privileged  neighbourhood  we had to be creative and use poles, barrel rings and recycled ropes as our equipment.
In 1977, "Ateneu" was found, organizing circus workshops for children ; this is where the first seed was planted, that would form part of my life up to the present day.
In 1998 the first Circus School "Rogelio Rivel" was formed in Spain and I was fortunate  to be one of the first students to complete the training.
From there on I began to participate in various circus companies in Spain and the rest of Europe, in theatres and festivals such as the well -known "Aurillac".
When I became a father, my profession began to grow in another direction; forming workshops, schools clubs and local groups.
In 2016 I took part in the Social Circus Teacher Training Project, set up by "Cirque du Soleil" and coordinated by the European Social Network " Caravan" and funded by the European Union.
And since I am very enthusiastic about learning new things and training myself in new techniques,I am now starting a new chapter with my family in the UK.