Circus is one of the most global and comprehensive activities in the area of movement. The fact that this art is a
sum

of various languages makes it possible for everyone to find one language to enjoy, express themselves and contribute artistically to the group.
For anyone and at all ages, the practice of circus arts stimulates hugely two important human aspects: creativity and social skills.

By learning circus techniques such as acrobatics, balancing on objects, juggling, acrobatic balancing and trapeze, and performing in front of an audience at the end of the course, we can develop and improve skills related to cooperation, solidarity, effort, achievement, communication, self-esteem and participation.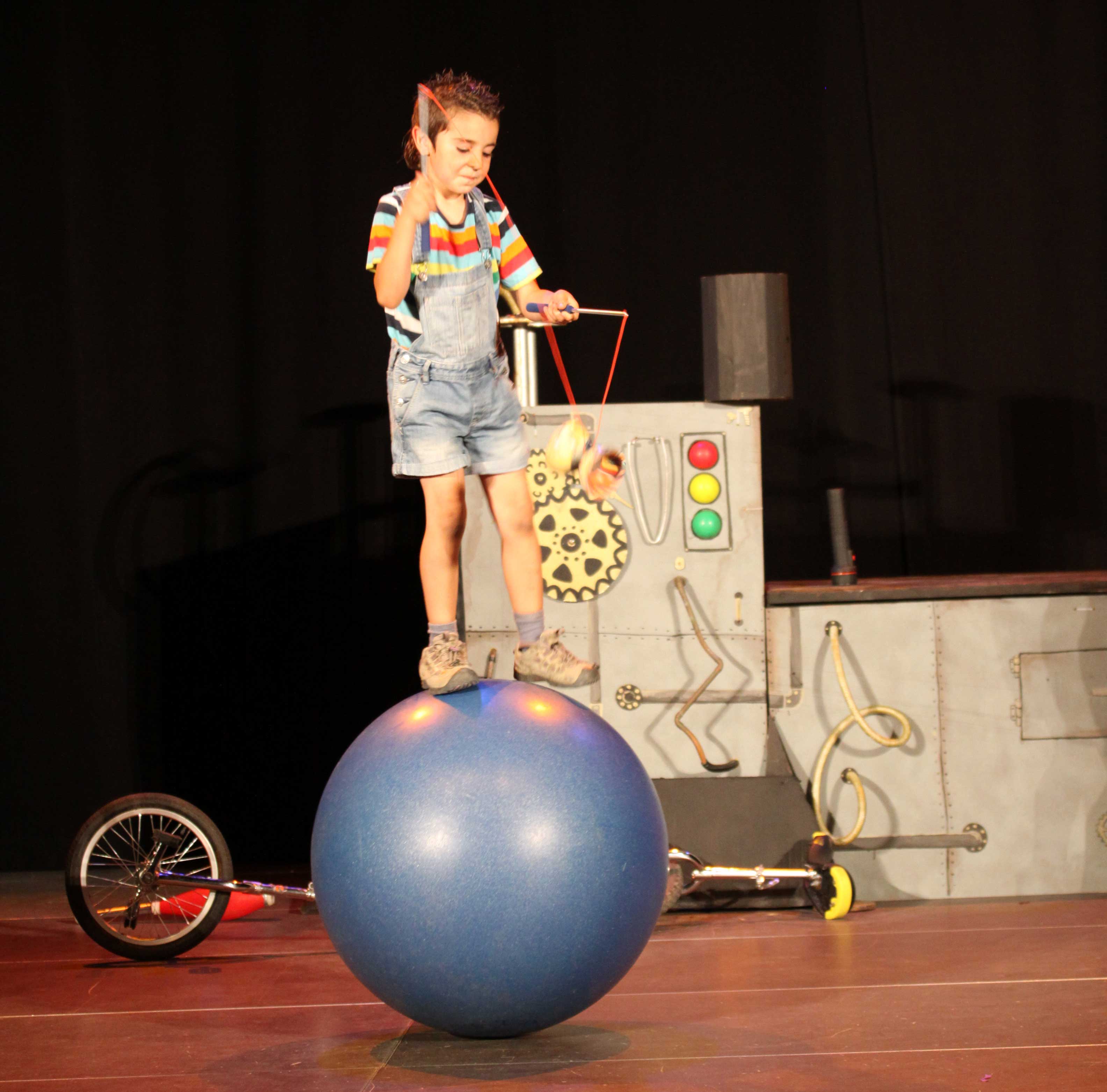 A GLOBAL ACTIVITY
Circus is carried out, learned and practiced for fun, to have a good time; but it also has some undoubtedly educational benefits. There are four different areas of work.
Technical area
Integrating the basic knowledge of the various circus techniques
Helping to achieve knowledge of the body as well as gross and fine motor skills
Promoting independent working habits

integranting healthy, physical works-outs.

Promoting creativity and research through play and improvisation.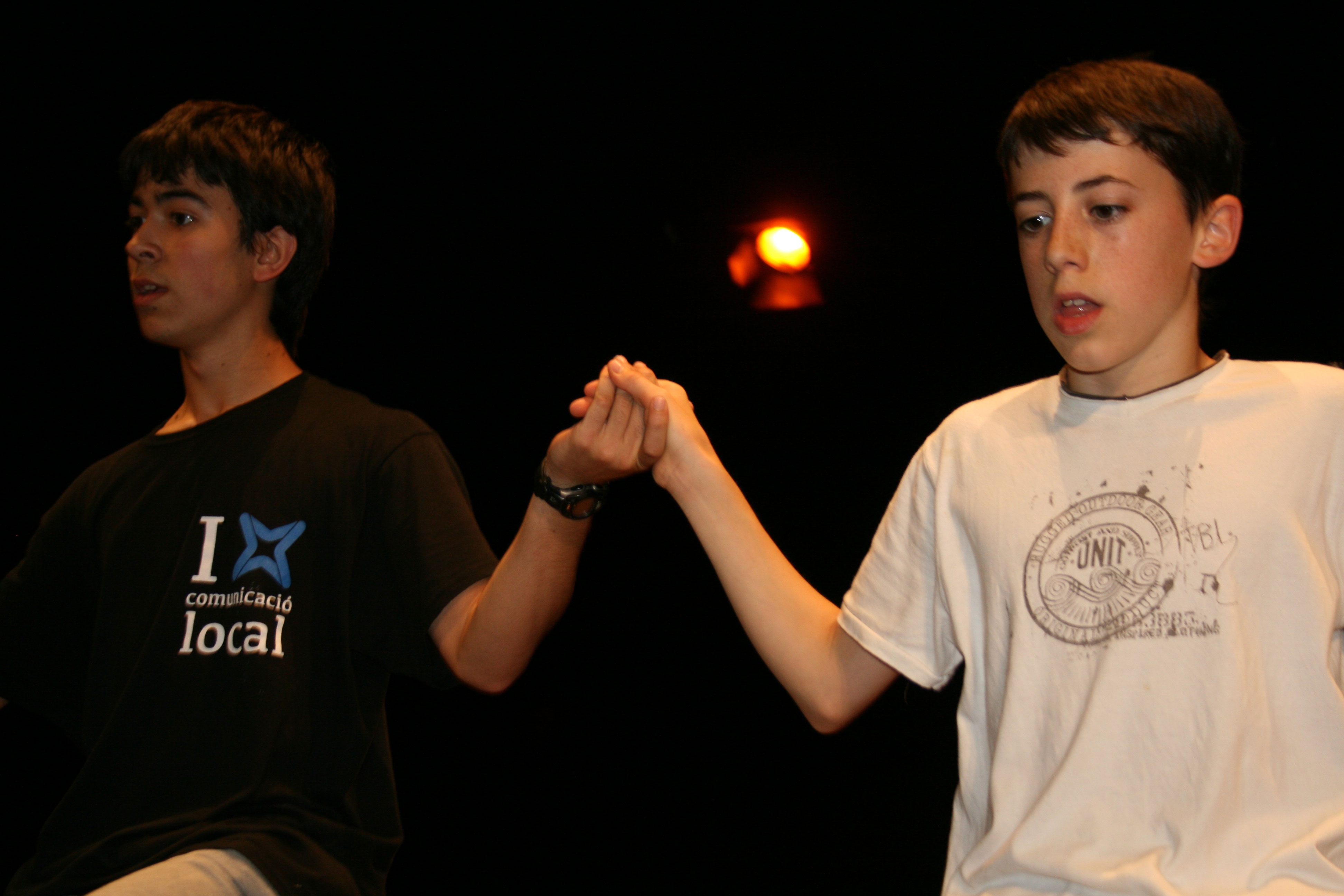 Emotional area
Gaining a higher degree of expression and communication
Gaining a good level of self-esteem
Building self-confidence
Decreasing the sensation of isolation and inhibition through working in groups
Increasing the value of cooperation within a group and

cooperation between the group and its community.

Favouring the values of effort, perseverance and responsibility
Promoting group work and the skills needed for this type of work: mutual respect, active listening and observation.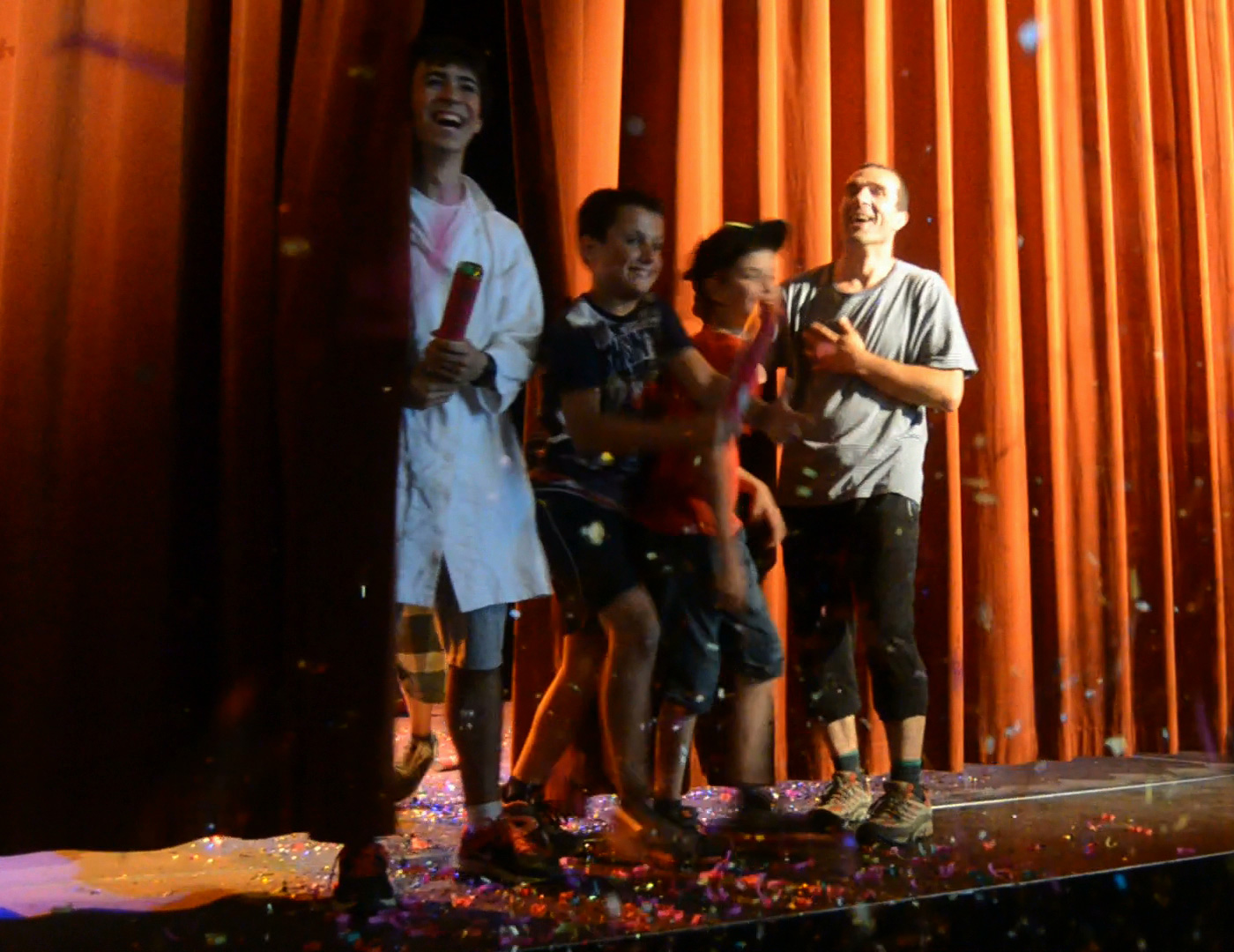 Area of leisure
Integrating circus as a leisure activity
Increasing awareness and sensitivity towards artistic expressions

Awaken

the sense play and of community
Having creative, participative alternatives as leisure-time activities, in contrast to consumerist and passive activities.

Area of community
Promoting the student's direct involvement in the educational project, in the socio-cultural centre and in their close community by means of workshops, street parades and amateur shows.
By learning circus skills, youngsters become the main actors, their perception of themselves changes and their relationship with their close community is enriched. Thus, through artistic creation, circus courses feed their creativity and their social skills.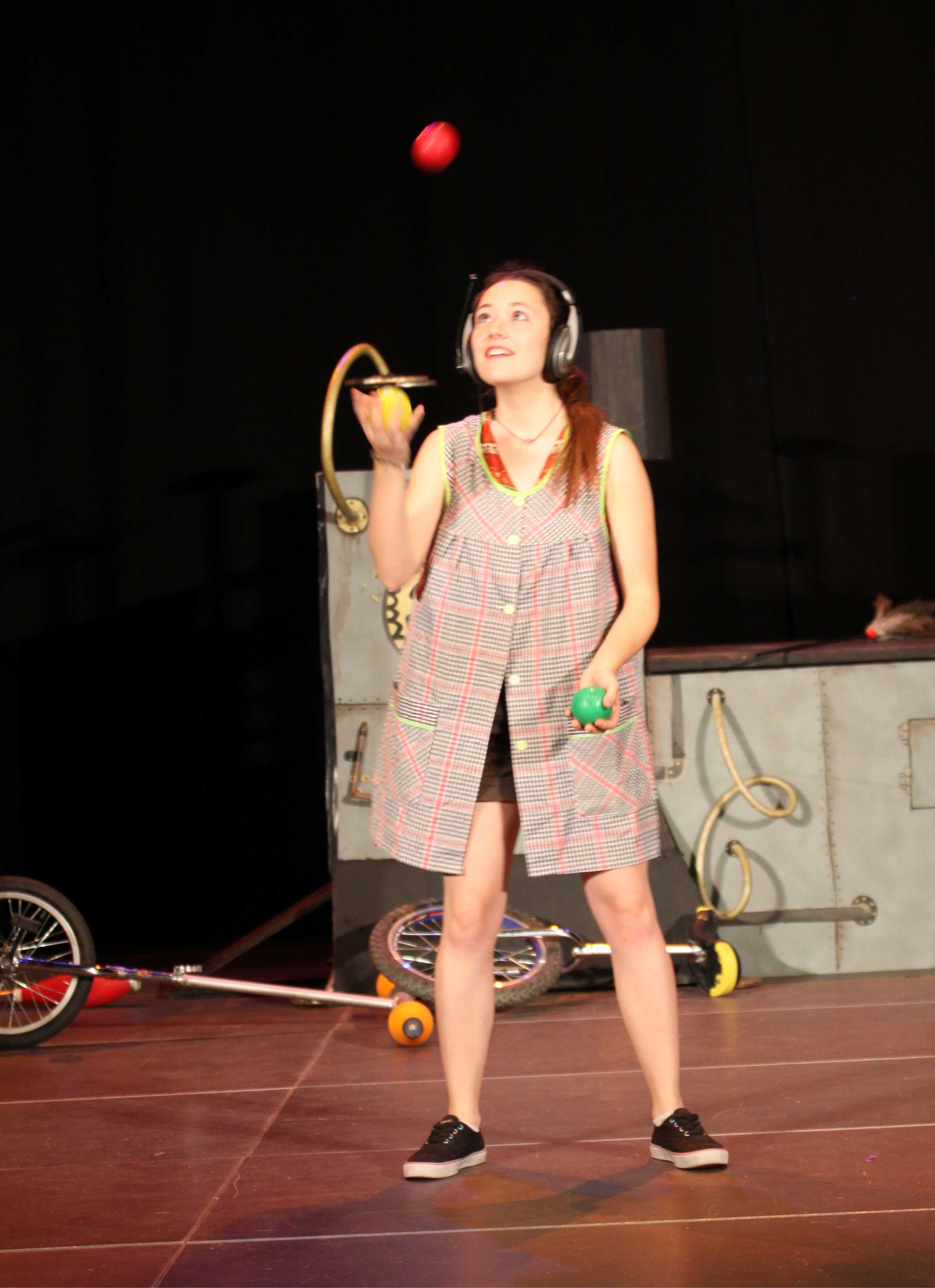 TECHNIQUES – what language do you speak?
Balancing on objects
Acrobatics
Acrobatic balancing
Juggling
Aerials – trapeze
S

howcase

of the techniques learned.
– Balancing on objects: students work on the sense of balance, as well as the perception of space and motion on various objects: unicycle, balance ball, tightrope, rolla-bolla board, ball and roll.

– Acrobatics: students mainly work on trust and solidarity, since many of the exercises need to be done independently, but with the help of one or more people. Also, it has benefits both for the body and the mind, since it requires a degree of effort and attention in order to receive, understand and carry out the instructions needed to do the acrobatic acts. By respecting the abilities and limitations of each group member, students can find a space for body expression – doing, feeling and thinking through the body.
Another important aspect of this discipline is the optimal physical condition needed to do the exercises or to help other students to do them. This encourages students to develop healthy habits, thus preventing risk behaviours.
– Acrobatic balancing: doing (static or in motion) balancing acts between two or more people.
Juggling: it's probably the quickest to learn circus skill. Students work on endurance, and overcoming falls and errors. In fact, the learning process involves a series of steps that help overcome frustration, for instance, by developing skills such as concentration, discipline and sense of humour. With juggling, students are amazed at what they are able to do with their bodies, hands and feet, just with some concentration and training, repeating once, twice or three times until the movement appears natural and harmonious.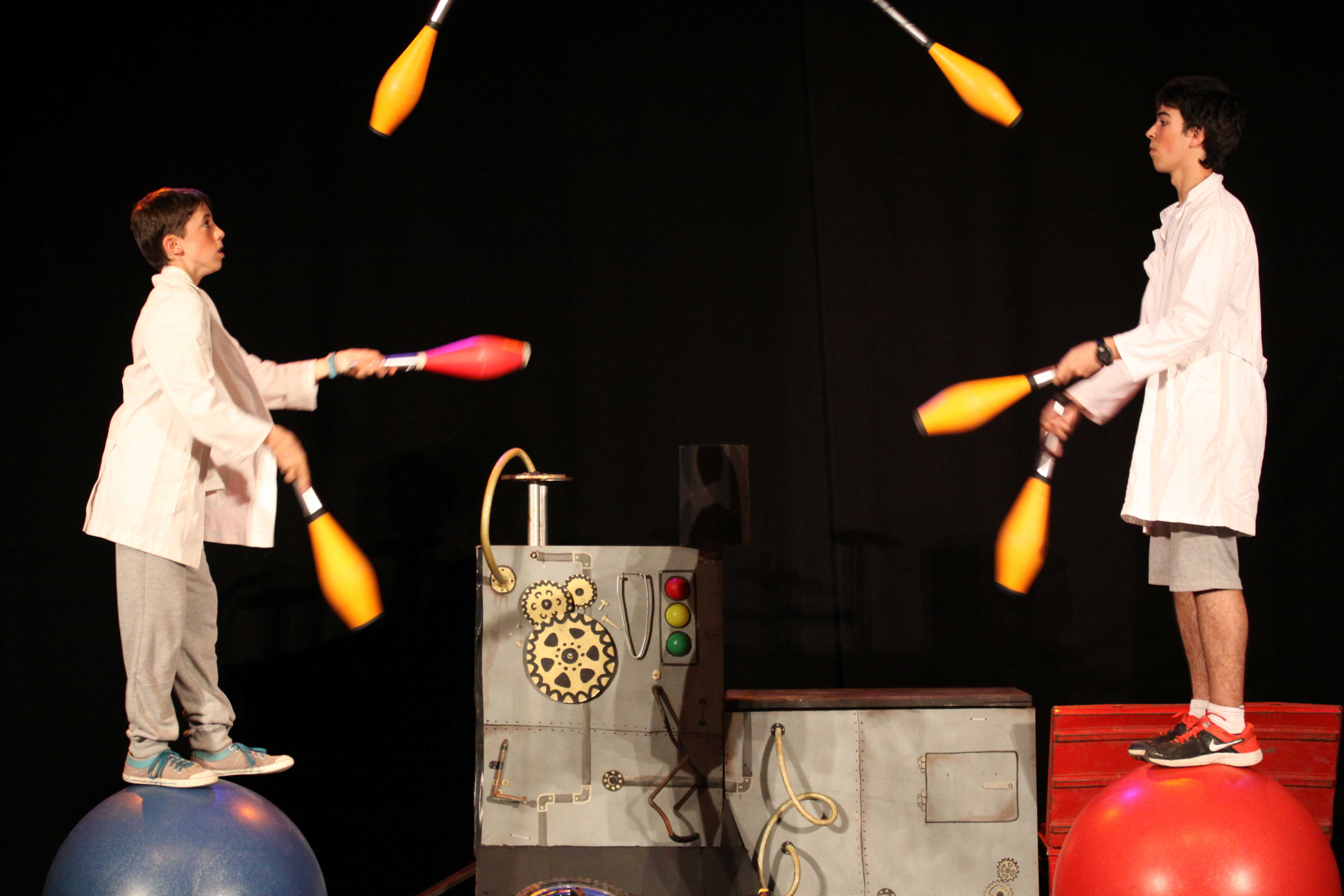 Aerials – trapeze: students practice acrobatic exercises which combine strength and  flexibility, doing acts on the bar and the ropes, individually or in pairs.
Finale and showcase of the skills learned: This type of collective circus emphasizes artistic challenges, where both boys and girls prove themselves equally. They react with each other when cooperating and helping each other, and they need to interact in order to do a good show. Joint training reinforces empathy and cooperation within the group, while showing students that, through team work,   you can create more and better than through a series of individual activities.
Training and preparation for a circus show promotes the value of shared responsibility. Also, preparation and performance helps participants understand the aims of organization and discipline. Students comprehend the meaning of planning and preparation, the global vision and the distribution of tasks, thus learning intuitively.
By gaining experience in performing in front of an audience, stage fright and lack of self-confidence are gradually overcome. Boys and girls gain confidence in their abilities and courage to show them.
Students meet the challenge of cooperating within the group and overcoming limitations according to the age or the corresponding development in case of teenagers, when they need to create a circus act.
On the other hand, in order to perform a circus act, physical contact is inevitable in most acrobatic forms. For a successful performance, it is necessary to interact with each other and cooperate.
By training, creating and performing circus acts, skills and mobility are developed, team spirit is fostered, and courage and confidence are reinforced. Finally, going on stage helps reinforce self-esteem and self-confidence through preparation and training.